Advance Traffic Control Signs
(80551)
Advance traffic control signs
are important to ensure seamless traffic movement and prevent accidents that can be caused by changing conditions on the road.
• You can find MUTCD-compliant designs in stock, ready to order. Alternatively, you can create customized signs and add your own advance traffic warning. Easy online wizard allows you create one in a snap. No extra charges for customization!
• All signs are made using reflective aluminum and are offered in multiple size options.
• Signs are durable and carry a 10-year warranty. Installation is easy with pre-cleared holes.
Yield Traffic Signs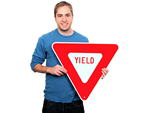 Choose from 3 grades of reflectivity: Engineer, High Intensity, or Diamond Grade, with durable 3M inks and films.
Other Traffic Signs
(111694)
Customer Reviews