Soft Shoulder Signs
(36947)
Shoulder Work? Right Shoulder Closed? Loose Gravel? No problem - we have a sign for that.
• Signs are MUTCD-compliant where specified.
• Our signs are made with top materials and 3M parts, so they will last long past the road work is done.
• Browse our sign below and hover over an image for additional details.
• Can't find exactly what you are looking for? Our live support team is happy to help!
• For more information, visit our - Soft Shoulder FAQs
Detour Signs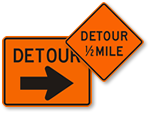 Prevent traffic headaches for motorists by clearly marking detours on area roads.
Related Products
(111799)
Frequently Asked Questions
Q.
What are Soft Shoulder Signs?
A.
Soft Shoulder signs are warning signs that alert road users about unpaved shoulders along a roadway. Such shoulders are made of dirt and/or gravel and should not be driven on except during emergencies.
Q.
Are your Shoulder Work signs MUTCD compliant?
A.
Yes. Our Shoulder Work signs and right and left shoulder closed signs are created as per MUTCD Section 6F.37. These signs are orange in color with a black legend, as required in Figure 6F-4.
Q.
Why are some of your Soft Shoulder signs yellow and some orange?
Q.
Can I install a Soft Shoulder sign on my private drive?
A.
Soft Shoulder signs are primarily used on public roadways and highways. Local traffic laws and rules may govern their usage. Please contact your local traffic authority for an accurate and reliable answer.
Q.
Is it worth opting for the 3M SmartShield POF Laminate?
A.
The 3M SmartShield POF Laminate not only makes it easy to remove marks and graffiti from your sign but also protects the graphics from weather and fading. This greatly extends the life of your sign.
Q.
How do I get an invoice for my order?
A.
We will send you the invoice in your order confirmation email. You may also email us at [email protected] or call us on 800 952 1457 and our team will be happy to help you with the invoice.
Q.
Can I get promotional shipping on a Soft Shoulder sign?
A.
Not all items are eligible for promotional shipping. During the checkout process, you'll be able to see whether promotional shipping applies to your order.
Q.
What happens if I receive a damaged product?
A.
We do our best to ensure our product reaches you in the best condition. If you do receive a damaged good, please email us at [email protected] with a picture of the item received. We will have the item replaced at no cost to you.
Customer Reviews