Bike and Bicycle Speed Limit Signs
(46311)
If every biker wore reflective clothing, it would make driving easier, but ensuring safety on the road is a mutual process for drivers, bicycle riders, and pedestrians. Command drivers to slow down with Watch for Bikers Speed Limit Signs. Their fluorescent qualities guarantee nighttime and distance visibility.
• Watch for Bikers and Bicycle Signs protect pedestrians. We also remind drivers to share the road with bikers.
• Our signs are composed of tough aluminum, which will endure through harsh outdoor weather.
• These chemical resistant signs will last for up to ten years. They are unyielding support tools for road safely.
• Consult with our Live Help listed above if you have any questions.
Bicycle Crossing Signs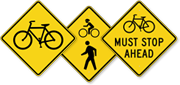 Clearly mark bike crossing intersections with durable, reflective signs.
Bicycle Speed Limit Signs - Related Products
(78369)
Customer Reviews