Truck Route Signs
(46373)
Truck Route Signs
help clearly identify preferred truck routes and roads. Signs help designate truck only areas and alert traffic to frequent truck thru ways. Remind other drivers to stay alert and watch for trucks with Truck Route Signs.
• Signs are made with reflective materials. Choose from up to 3 grades of high grade reflective films.
• Signs have high visibility and easily installed. Signs come with pre-drilled holes for easy posting. All signs are guaranteed to last for years.
• Scroll over signs for more details. Questions? Need assistance? Please don't hesitate to call our live support line today.
Truck Signs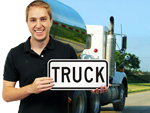 Our Truck Signs help mark the road restricted for trucks and inform passenger vehicles to drive cautiously around them.
Customer Reviews
Part #: K-6550
24" x 24"
Heavy-Duty Aluminum Sign, 80 mil
Verified Purchase
Top Quality
Very good Quality.
Part #: K2-0674-R
18" x 18"
Engineer Grade Reflective Aluminum Sign, 80 mil
Verified Purchase
Simple to order
Very easy to order and is exactly what I need!
Part #: K-2885
Verified Purchase
Great Sign !
Quality of this sign is excellent ! Should last for a long time . Very nice people to deal with .