Truck Traffic Signs
(34103)
Truck Traffic Signs alert drivers of large motor vehicles approaching, therefore everyone must utilize caution. Accidents involving trucks may cause much more severe damage than those involving small, regular sized vehicles, so Truck Traffic Signs make safety on the road a priority. Post Truck Signs to warn drivers of trucks on the road or to alert trucks of weight limits or safety rules.
• Mark your truck crossings with a large diamond warning sign.
• All signs use 3M branded reflective materials and heavy duty aluminum.
• Browse our large selection of Crossing, Warning and Weight signs for all your truck sign needs.
• Scroll over signs for more details.
No Idling Signs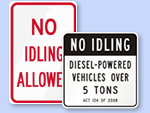 Stop unnecessary idling and smog. Protect lungs and enforce no idling laws. Post Turn Off Your Engine Signs in parking lots or depots.
Other Related Truck Signs
(70790)
Customer Reviews