Weight Limit Signs
(30620)
Prevent the deterioration of your roads by clearly establishing and marking maximum weight limits. Our affordable, high quality weight limit signs meet or exceed Federal MUTCD guidelines where noted.
• Reflective signs mean that truckers - day or night - will see your message.
• Custom weight limit signs let you adjust the weight limits for your road, highway, or bridge.
• Scroll over signs for more details. Questions? Our live support team is here to help.
Low Clearance Signs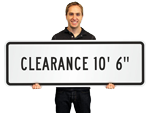 Signs are made with 3M materials and are guaranteed for 10 years.
Other Related Products
(85348)
Customer Reviews