Turkey Crossing Signs
(71356)
Our Turkey Crossing Signs are perfect for outdoor crossings or indoor decorating fun. So whether you're an animal buff, or just looking for great gag gift, our comprehensive selection of Turkey Crossing Signs are sure to gobble up attention and bring a smile to your visitors' face.
• All signs are made with 3M brand reflective films and durable heavy-duty aluminum, which do not rust, crack, corrode, or fade.
• Add a supplemental sign to further instruct motorists as they approach a forest, stable or farm.
• Scroll over signs for more details. Don't see what you need? Call us! We'll happily help you find any sign you are looking for.
Animal Crossing Signs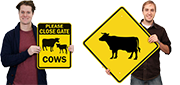 Find 50+ other crossing signs. Signs are offical, durable and, mainly, fun!
Other Related Products
(86019)
Customer Reviews