Duck Crossing Signs
(65753)
Adorable and found in many communities, ducks are increasingly part of our life. Spotting a duck crossing a road is certain to bring a smile to even the most hard-hearted driver.
• This line of duck crossing signs ranges in size from 12" to 36" on the side (and the tip-to-tip height is about 1.4X taller).
• Duck crossing signs use premier 3M films and inks and are mounted to heavy duty aluminum. These are the same signs used by our largest city public works buyers.
Penguin Crossing Signs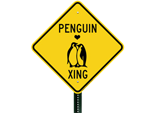 Signs can be posted indoors or outdoors. No need to worry about these fading, they are made of rust-proof aluminum.
Related Crossing Signs
(69574)
Customer Reviews