Duck Crossing Signs
(65753)
Adorable and found in many communities, ducks are increasingly part of our life. Spotting a duck crossing a road is certain to bring a smile to even the most hard-hearted driver.
• This line of duck crossing signs ranges in size from 12" to 36" on the side (and the tip-to-tip height is about 1.4X taller).
• Duck crossing signs use premier 3M films and inks and are mounted to heavy duty aluminum. These are the same signs used by our largest city public works buyers.
Look for this Symbol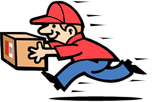 Ships Today
. Order within
00 hrs 00 mins
Customer Reviews
Excellent signs.
Excellent quality. Have purchased four of this sign thus far, plus several "no parking on grass" signs and one duck crossing sign. Happy with them all.
Size: 18" x 18"
Material Type: High Intensity Grade Reflective Sign, 80 mil Aluminum
Verified Purchase
Excellent signs
Signs are very well made, exactly as described. Our ducks crossed safely and I'm sure the signs helped! Thank you!
Size: 24" x 24"
Material Type: Fluorescent Yellow Diamond Grade Reflective Aluminum Sign
Verified Purchase
High quality
Very high quality. Fast delivery
Size: 12" x 12"
Material Type: Heavy-Duty Aluminum Sign, 63 mil
Verified Purchase
Great Sign!
Sign arrived on time and as described. Thanks!!
Size: 18" x 18"
Material Type: Reflective Aluminum Signature Designer Signs
Verified Purchase
Ducks
Lovely!!