Low Clearance Signs
(30595)
Tight space? Warn drivers in cargo carriers and trucks of low overhead clearances.
• Our affordable, Low Clearance Crossing signs meet MUTCD standards where specified.
• Signs are made with 3M materials and are guaranteed for 10 years.
• Can't find what you need? Contact our live support team.
Low Overhead Clearance Signs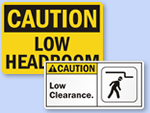 Find a broad selection of other low headroom safety and property signs. It's easy to customize one of low clearance templates, too.
Other Related Products
(85241)
Customer Reviews