Yield to Pedestrian Signs
(44114)
Yield to pedestrian signs
let pedestrians feel safe and comfortable.
• Loud and clear, graphic-based signs leave no room for confusion. Made with premium-quality aluminum and 3M inks.
• Properly placed signs reduce accidents and save lives.
• Fluorescent signs ensure the message gets through, day or night.
A History of the Yield Sign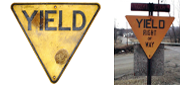 Ever wonder where your yield sign came from? We have some information for you.

State Law Yield to Pedestrians within Crosswalk Sign
What makes our State Law Yield to Pedestrians Crosswalk Sign unique from other pedestrian signs? Find out here.
More Pedestrian Signs
(63486)
Customer Reviews