Encourage more people to ride their bikes by providing bike racks and tell everyone with our trustworthy
Bike Rack Signs
.
• Direct people to the closest bike rack with high quality signage.
• Get your message across clearly.
• Call our customer service department -- we'll get you the signs you want in no time.
Custom Bicycle Signs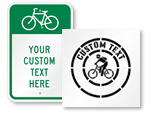 We have templates listed below or click on the Custom Traffic Signs image to the right to create a custom sign from scratch.
Other Bike Signs
(112029)
Customer Reviews
Part #: K-4314
18" x 12"
Engineer Grade Reflective Aluminum Sign
Verified Purchase
Good Quality
Good quality. Reflective, and good value.
Part #: K-4314
18" x 12"
Heavy-Duty Aluminum Sign, 63 mil
Verified Purchase
Exceptional experience
Great quality, excellent service. I would go to MyParkingSign for any future needs for signage.