No Outlet Street Signs
(84499)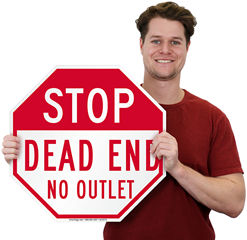 Having issues with motorists taking unnecessary detours in your neighborhood? Post No Outlet signs letting drivers know that there is not another exit on the road.
• Signs are available in three different types of reflectivity: Engineer Grade, High Intensity and Diamond Grade.
• Signs have two holes pre-drilled making installation a breeze. Hole locations are compatible with our posts.
No Outlet Signs

Mark private road entrance with no other exit with these MUTCD compliant, rust-proof, designer traffic signs.
Customer Reviews