Blasting signs
are critical to dangerous work sites like mines and construction zones where one wrong move may cost a life.
• Black on orange signs conform to MUTCD and FHWA's design standards for temporary traffic control. We also offer OSHA blasting zone signs.
• Large, reflective aluminum signs offer high visibility at all times of the day, and withstand degradation by environment and rough handling. Signs come with a 10-year warranty.
• Signs are punched with holes for easy installation.
• Get great prices on bulk purchases.
Custom Road Construction Signs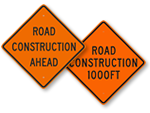 Road construction signs will warn drivers of work areas and will promote safe and cautious driving near your site.
Road Construction Signs - Related Products
(80624)
Customer Reviews
Part #: X-W22-1
30" x 30"
High Intensity Grade Reflective Sign, 80 mil Aluminum
Verified Purchase
Fast
Fast service, easy transaction.
Part #: X-W22-1
30" x 30"
Engineer Grade Reflective Aluminum Sign, 80 mil
Verified Purchase
Great sign for the price.
Bought as an inside joke between my friend and I as a house warming present. We could not be happier with our purchase. Great quality for the price and cannot wait to hang it up in the garage.
Part #: S-1804
7" x 10"
Aluminum (40 mil)
Verified Purchase
Highly recommend
Quick service, fast delivery.