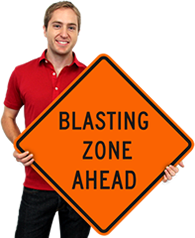 Blasting signs
are critical to dangerous work sites like mines and construction zones where one wrong move may cost a life.
• Black on orange signs conform to MUTCD and FHWA's design standards for temporary traffic control. We also offer OSHA blasting zone signs.
• Large, reflective aluminum signs offer high visibility at all times of the day, and withstand degradation by environment and rough handling. Signs come with a 10-year warranty.
• Signs are punched with holes for easy installation.
• Get great prices on bulk purchases.
Look for this Symbol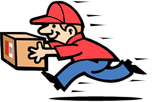 Ships Tomorrow
. Order within
00 hrs 00 mins
Road Construction Signs - Related Products
(80624)
Customer Reviews
Part #: S-1804
7" x 10"
Aluminum (40 mil)
Verified Purchase
Highly recommend
Quick service, fast delivery.