Welcome to Texas, "Drive friendly!" Whether you live in the Lone Star state or are just feeling nostalgic our heavy duty Texas Road signs are sure to bring a smile to you and your guests.
• It's easy to personalize your Farm Road or highway sign.
• Signs are made in the same factory that manufactures our large orders from Texas cities and localities. Heavy aluminum signs use 3M inks and films.
Farm Road Signs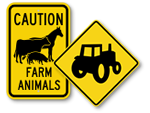 Keep visitors and passersby aware of the rules of the road with our variety of farm signs.
Other Related Road Signs
(85343)
Customer Reviews