Railroad Crossing Signs - Railroad Signs
(34602)
Prevent lethal accidents with a
railroad crossing sign
.
• We offer a broad range of railroad, traffic control, and custom road sign templates.
• Our design is the best-selling crossing sign in the US.
• Best-selling signs are sold primarily to our state and city customers on major yearly bids.
• For more information, visit our - Railroad Crossing FAQs
History of the Crossbuck Railroad Crossing Sign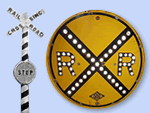 The crossbuck is the original US traffic sign. Learn how it got its name and how the design changed since the 1920s.

Railroad Crossing (Crossbuck) Sign
What makes us the nation's No.1 seller of Railroad Crossing (Crossbuck) Signs? Watch this video to find out.
Railroad Crossing Signs - Related Products
(78239)
Frequently Asked Questions
Q.
What are the advantages of the dog bone shape of the railroad crossing sign?
A.
Railroad signs are made of heavy-duty aluminum with high-intensity prismatic film, extruded into a dog bone shape. Innovative "Dogbone" metal extrusion is practically inflexible, ensuring that your sign does not twist or bend in the wind. Standard metal backings often fail in gusts. Competitor signs are often flat 80 mil thick, while most railroads highly recommend a "dogbone" shape to prevent the sign from twisting in the wind. States require tapered dogbone design for enhanced stability. This adds to both the efficacy and longevity of the sign.
Q.
What are the charges to customize a Railroad Crossing Sign?
A.
Absolutely none! We offer free customization. There are no direct or hidden charges for adding a particular piece of information or designing the Railroad Crossing Sign. However, not all our Railroad signs are customizable - just look for our "Custom" templates. If you want to design a sign from scratch, click here. After you're done with customization, you can also opt for our free design help option where dedicated design professionals tweak your signs to make them look even better.
Q.
Which one is the brighter sign color - fluorescent yellow or fluorescent yellow-green?
A.
The actual brightness of the sign color depends on the light source.
Fluorescent yellow is approved by the U.S. Federal Highway Administration (FHWA) for use on all yellow warning signs such as no-passing zone, stop ahead, yield ahead, and roadway alignment signs such as curve arrows and chevron signs. Fluorescent reflective signs are used for extra emphasis and conspicuity at dawn and at early evening times, which are considered the most dangerous times of the day.
Fluorescent yellow-green is officially required in a school zone or pedestrian/bicyclist area since 1992, when the FHWA experimented with this color on five pedestrian and bicycle crossings in Washington D.C. The results of the study indicated the FYG signs caught the attention of drivers more effectively than yellow.
Q.
Does shipping cost change with the number of signs ordered?
A.
Yes. Shipping costs change with your order quantity. As you add more products to your cart, shipping will be charged for each product accordingly. Shipping charges will increase minimally only as you increase the quantity of the same product (same size, same material). However, if the products are different in your cart, shipping will be charged separately for each product. Shipping also depends on the delivery address. We have a Shipping Cost Estimator on the cart page, which will show you the estimated shipping charges once you enter your zip code and select your shipping method.
Q.
What sizes do you offer for "Derail" signs?
A.
The Vertical Derail Sign is available in 6" x 36" while the Square Derail sign comes in 12" x 12" and 18" x 18". More signs can be browsed via the search box option.
We also offer Derail Clamp Signs, which can be easily attached to a rail clamp. These are available in 7" x 10", 10" x 14" and 12" x 15".
Q.
Do you ship Railroad Signs outside of the USA?
A.
Yes. Almost all of our railroad signs can be shipped internationally. If outside the United States, brokerage fees, taxes, and duties may apply. Promotional shipping will not be applied on orders outside the USA. International orders must be prepaid before shipping. Also, we do not accept international returns.
If you need an international shipping quote, you may email us at "[email protected]" your requirement or Call 1 (718) 889 3700, and our team will send you the perfect quote with shipping.
Customer Reviews