Railroad Crossing Signs - Railroad Signs
(34602)
Prevent lethal accidents with a
railroad crossing sign
.
• We offer a broad range of railroad, traffic control, and custom road sign templates.
• Our design is the best-selling crossing sign in the US.
• Best-selling signs are sold primarily to our state and city customers on major yearly bids.
History of the Crossbuck Railroad Crossing Sign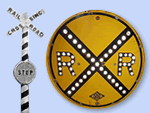 The crossbuck is the original US traffic sign. Learn how it got its name and how the design changed since the 1920s.

Railroad Crossing (Crossbuck) Sign
What makes us the nation's No.1 seller of Railroad Crossing (Crossbuck) Signs? Watch this video to find out.
Customer Reviews