Spanish Speed Limit Signs
(38608)
Make sure your signs aren't limited to English with Spanish Speed Limit Signs. No matter how you say it, speed limits save lives! A Spanish Speed Limit Sign will remind drivers to slow down and proceed safely.
• Spanish signs ensure you reach a larger audience, which means fewer accidents.
• Choose from Slow Down signs and Maximum Speed signs.
• Signs last for up to ten years (or more!) outside.
• Scroll over signs for more details. Questions? Call our live support now.
Spanish Road Signs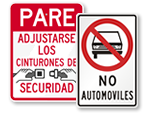 Ideal for neighborhoods with a large Hispanic populace. Varied sizes and materials available.
Related Speed Limit Signs
(111854)