Yield Signs - Yield Traffic Signs
(34042)
Help drivers watch for incoming or merging traffic, with professional state highway department
yield signs
. 24", 30" and 36" sizes meet FHWA R1-2 and MUTCD requirements.
• Yield Signs are MUTCD compliant where noted.
• Choose from 3 grades of reflectivity: Engineer, High Intensity, or Diamond Grade, with durable 3M inks and films.We are a 3M Authorized Traffic Sign manufacturer and signs carry a 10-year warranty.
• Buy direct - just like hundreds of our city and state government customers.
• For more information, visit our - Yield Signage FAQs
Yield to Pedestrian Signs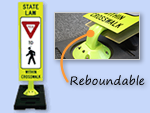 Learn more about our yield signs, a popular favorite with US cities and schools.
Other Yield Signs
(62430)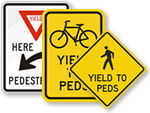 Protect pedestrians, children, and cyclists.
You can't miss fluorescent reflective yield signs.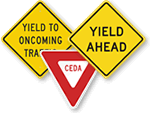 Place a simple warning about oncoming traffic.
Use reminders for exits and merging lanes.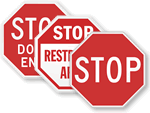 Best prices online for official DOT stop signs.
In a range of designs for your community.
Frequently Asked Questions
Q.
How are Diamond-Grade Reflective Yield Signs better than others?
A.
Made with 3M's brightest sign material, Diamond-Grade Signs enjoy three times the reflectivity of high intensity and ten times the reflectivity of engineer-grade signs. The signs are highly conspicuous during the day and promise high nighttime reflectivity along with the wide-angle performance of 3M micro prismatic lens technology.
Q.
Can you ship my traffic yield sign using my UPS shipping account?
A.
Yes, we can. Please leave your UPS account number in the instruction box while placing the order and we'll use it to ship your order.
Q.
How long is your return window?
A.
If you are not happy with your order, you may call us within 60 days of receiving the order to return undamaged, unused stock products. Custom products cannot be returned. You can find complete details on our shipping terms page.
Q.
How can I find out my shipping cost for a yield sign?
A.
You can easily find out your shipping cost by using the "estimate shipping cost" button while placing the order. You'll just need to enter your zip code and select the shipping method to arrive at the correct shipping cost.
Q.
Are yield signs available only in English?
Q.
Are designer yield signs enforceable?
A.
Our SignatureSign Designer Yield Sign is created for use on controlled private properties only. These should not be used on public roads or private roads open to the public as these are not official MUTCD signs.
Customer Reviews