Yield Signs - Yield Traffic Signs
(34042)
Help drivers watch for incoming or merging traffic, with professional state highway department
yield signs
. 24", 30" and 36" sizes meet FHWA R1-2 and MUTCD requirements.
• Yield Signs are MUTCD compliant where noted.
• Choose from 3 grades of reflectivity: Engineer, High Intensity, or Diamond Grade, with durable 3M inks and films.We are a 3M Authorized Traffic Sign manufacturer and signs carry a 10-year warranty.
• Buy direct - just like hundreds of our city and state government customers.
Yield to Pedestrian Signs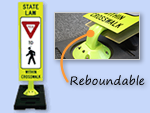 Learn more about our yield signs, a popular favorite with US cities and schools.
Other Yield Signs
(62430)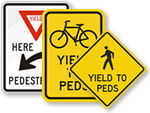 Protect pedestrians, children, and cyclists.
You can't miss fluorescent reflective yield signs.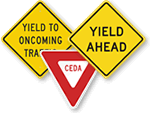 Place a simple warning about oncoming traffic.
Use reminders for exits and merging lanes.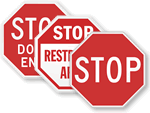 Best prices online for official DOT stop signs.
In a range of designs for your community.
Customer Reviews