Turning Area Signs
(105628)
Direct turning traffic on your private roads or parking lots with our MUTCD
Turning Area Signs
. Signs clear confusion regarding where to turn, where not to turn, and when to turn.
• Signs are manufactured using the highest quality of aluminum and laminated with 3M reflective sheet.
• There are three options for reflectivity: Engineer grade, High Intensity, and Diamond grade. Take your pick.
• Click on the desired product below to check out the materials, sizes, and pricing on the next page.
Traffic Signal Signs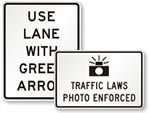 Traffic signal signs make roads and crosswalks safer by drawing attention to vital traffic signals and lights.
Other Related Signs
(105631)
Customer Reviews