One Way SignatureSigns - Designer One Way Signs
(46283)
With our brilliantly crafted and aesthetically pleasing SignatureSign One Way Signs, your property is sure to become the envy of the community. Unique Oval and Dome shaped signs put your property high above the rest. These one way signs will clearly guide the visitors and other vehicles of the restricted movement.
• Available in four different color & style combinations to suit your taste. Have one color theme or mix and match.
• Made from heavy duty aluminum that does not rust or wear for decades! Pre-drilled holes for easy mounting.
• Not satisfied with our in-stock options? Easily create and order your own custom one way signs at no extra cost!
MUTCD One Way Signs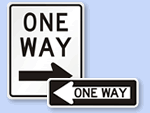 Best prices, guaranteed. Same signs ordered by our city customers. 3M quality and durability.
Other Designer Signs
(75890)
Customer Reviews