Put an end to unwanted and dangerous speeding. Speed bumps force cars to slow down and keep to the speed limit. Speed bumps help keep a neighborhood or campus road safe and parking lot traffic moving at a reasonable speed.
• Speed bumps are made from 100% recycled rubber here in the USA. That means that they're good for the planet and for the country by supporting environmentally friendly jobs.
• Questions or don't see what you need? Call our live support. We're here to help.
Parking Bumper Guard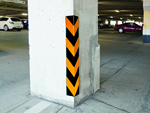 The ultimate damage prevention tool! Guards provide a low cost way to protect your facility.
Speed Bump Signs & Parking Stops
(36498)

Bring attention to the speed bump ahead.
Available in reflective aluminum for extra visibility.

Rubber wheel stops don't crack like concrete.
Organize your parking lot by color.
Customer Reviews